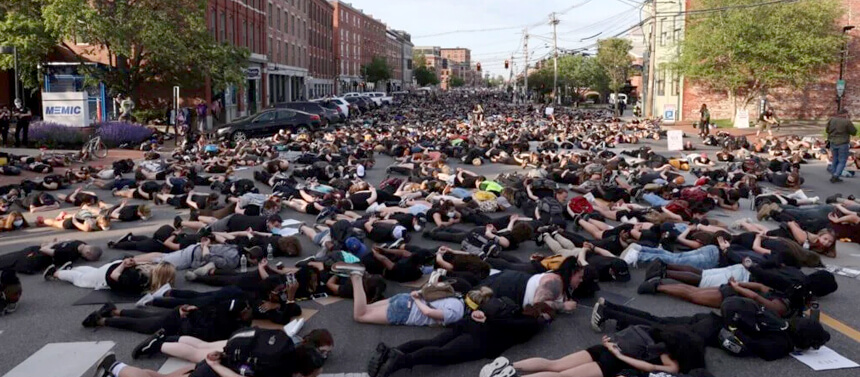 The horrific slayings of George Floyd, Breonna Taylor, Ahmoud Arbery, Walter Scott, Freddie Gray, Michael Brown, Philando Castile, Tamir Rice, Sandra Bland, Eric Garner, Trayvon Martin, Tony McDade, and so many others, painfully expose American injustice. Black people face all the burdens that white people face–such as economic realities and health concerns–in addition to the trauma and injustice of systemic racism. It permeates every part of our society and has for four centuries in America: the atrocities of slavery; Jim Crow; "Separate but Equal"; redlining; unethical medical studies, practices, and marginalization; employment, educational, and judicial discrimination; implicit bias; gerrymandering; police brutality; and lynching. Even today.
It is unjust that here in Portland, Black children are born into families that have been made poorer across generations by inequities in education, housing, and employment.
It is unjust that here in Portland, Black youth have systematically poorer educational outcomes.
It is unjust that here in Maine, Black adults are five times more likely to be imprisoned than white adults.
It is unjust that here in Maine, Black people are suffering from COVID-19 at a rate over six times that of white people.
It is unjust that here in the United States, on average, Black people live three fewer years than white people.
We must do better.
Leaving an unfair system unchanged is an affront to the very values that we profess to hold dear as Americans. We have shown in this state and elsewhere in the country that we can make progress. But it has been over 150 years since Maine helped end slavery in the Civil War, over 60 years since Brown v. Board of Education, and over 50 years since passage of the Civil Rights Act. We are long overdue.
I am struggling, like many, to digest the enormity of the mistakes I and other white people have made in perpetuating systemic racism. Even though I began working in public and academia on issues of race almost 30 years ago, I am, along with so many others, redoubling my individual journey to be truly anti-racist through awareness and actions. Beyond the personal level, there are steps we also must take within and among institutions and professions.
Systemic problems call for systemic intervention, which is within the purview of the State Legislature. First, we should thank leaders who have been advancing anti-racist measures, led by Portland delegate State Representative Rachel Talbot-Ross, and Representative Craig Hickman of Winthrop. One of the steps forward was passing an act to create a commission to formally document the scope and dimensions of the problem of racial and ethnic disparities (LD 777) in 2019.
Additional work in Augusta should:
Adjust the school funding formula to more substantially account for economically disadvantaged students, so more state funds would flow to Portland Public Schools for after-school programs (LD 712)
Make it easier for people with low-level criminal convictions to access higher education in Maine (LD 760); expunge records for non-violent marijuana convictions prior to it being decriminalized (LD 991)
Investigate and implement ways to reduce the expansive missions and budgets of policing, and instead better fund upstream factors such as education and healthcare.
Investigate and implement ways to support Black economic development.
Close or dramatically reinvent Long Creek juvenile corrections facility, which holds Black youth at twelve times their representation in the population at large. In its place, community-based programs would be far less expensive, and cause far less disruption to family and education. (Center for Children's Law and Policy, 2020)
As a citizen and legislator, I will continue to look for ways to help create the future to which we aspire. We must not only proclaim, but live the credo: Black Lives Matter!
My heart is humble. My ears are open.
---
Photo by Derek Davis/Staff Photographer at Portland Press Herald